J-LOC 5C Expanding I. D. Collets
"The Answer to Inside Diameter Workholding"
No Machining Necessary!
No assembly Necessary!
No Screws To Break!
Virtually As Rigid As Your O. D. Collets!
Only I.D. Collet That Works On Dead Length Collet Chucks!
Collet May Be Disassembled by Loosening One Screw!

Just Remove Your O. D. Collet And Insert A J-LOC I. D. Collet.
Strongest I. D Collet On The Market Today!!!
J-LOC I. D Collets offer .0005" Repeatable accuracy.
Excellent for:
Milling, Turning, Grinding, Welding Or Assembly

Specials Available Upon Request.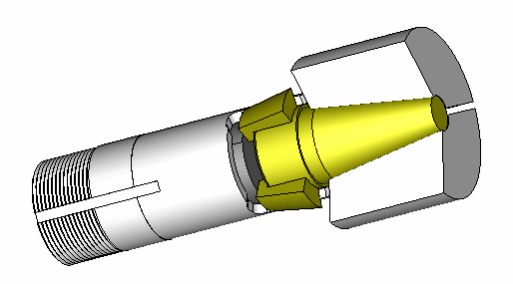 Cho
The single piece collet body is drawn back over
the expansion plug forcing the holding diameter
to expand to clamp on the I. D. of the work part.
Maintains a .0005" repeatable accuracy after machining.